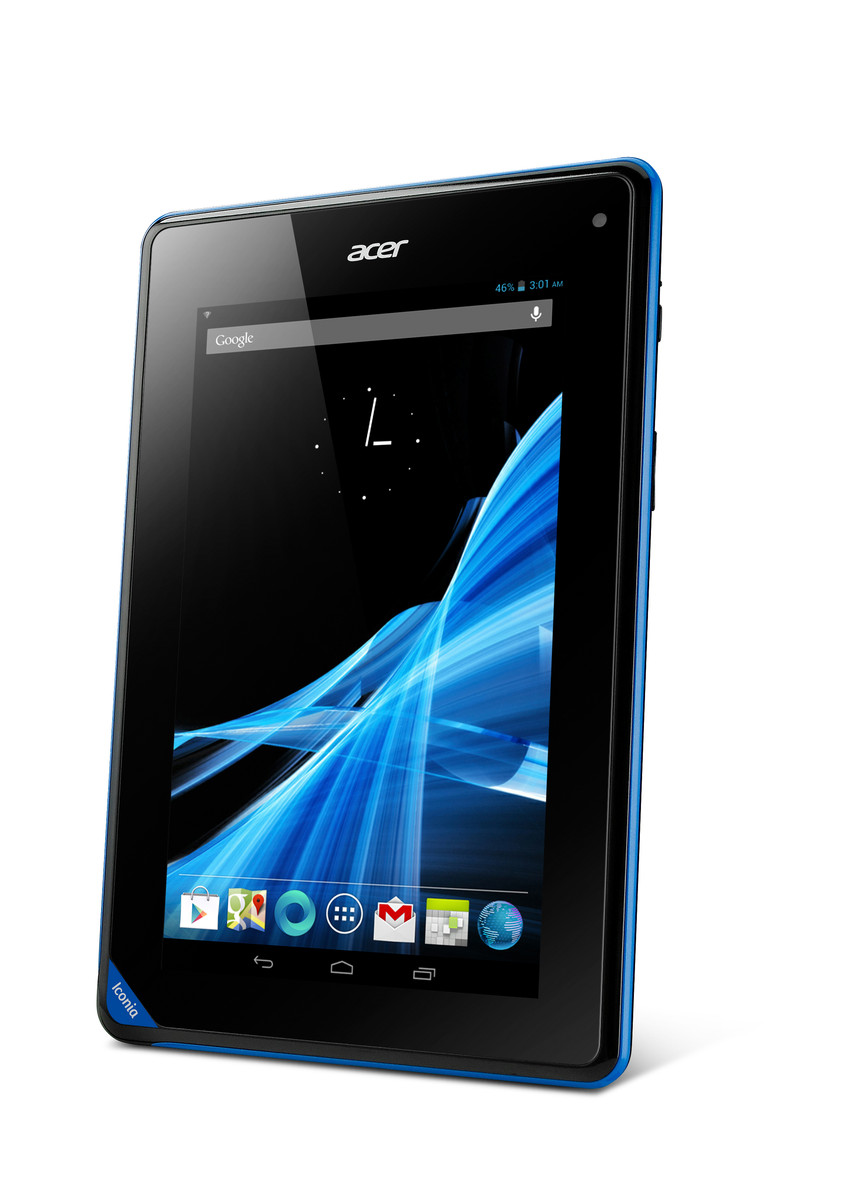 Acer Iconia-B1
As a student in the 21st Centure, its essentially to have all your gadgets and gizmos to make your life a lot easier. One of the gadgets I've acquired while at university which has helped me pass my time as well as help with my studies in the Acer Iconia-B1, a tablet brought to you by the well known computer manufacturer ACER.
Although I love my gadgets, being a student, I'm not exactly carrying spare cash on me, so when I saw this tablet I knew I had to get it.
I chose this snazzy tablet over anything like the Apple iPad because of several different reasons:
PRICE - for £99 you can't be robbed can you? compared to the hundreds you'd pay for an Apple product its definitely worth it
KEY FEATURES -
Extremely light for those "bringing lots of books too uni" days

Android 4.1 (Jelly Bean)

Expandable memory up to 32GB microSD (can be purchased on amazon fairly cheap!

7-inch muti-touch screen with 1024 x 600 pixels (pretty standard)

8GB Internal memory

Built in speakers, webcam, wi-fi enabled, mic (for skyping!) 3.5mm headphone jack

A decent battery life (3.5 hours depending on usage)

It's good looking!
Now obviously, the specs aren't as high as an apple iPad, but with some of the latest android specs, it runs very smoothly and I haven't had one problem with it yet!
WHY A STUDENT WOULD USE IT?
Why would someone like me use it you ask? Well where do I start? One of the main reasons I thought this purchase was a good idea was the fact that I could access electronic copies of several books from my library at university, but putting it on my laptop was not accessible enough and putting it onto my phone was just a pain, having to try and scroll just to read one piece of text. So an alternate to something such as a KINDLE was this product!So yeah, for anyone wanting to just buy an e-reader, first look at tablets, yeah their battery life may not be as long, but unless your going to be reading a book for 8 hours straight then there is no problem!
Movies! What student doesn't find themselves watching movies? And I'm sure many of you will download them, through places that will not be named or even through the actual DVD itself (some DVD's offer digital copies). Now i found myself going on a Megabus quiet regularly, whether it was going home for a family members birthday or visiting friends. At first I used my laptop, but it died within an hour or so, meaning i'd get half way through a movie and it would just die! But not with my acer iconia! I can enjoy up to 2 movies a journey depending on how long my journeys are, as well as being able to use their extremely slow wi-fi to access pages such as Facebook and twitter.
AND FINALLY, just messing around! I found my self many times in my first year doing nothing but being on my phone, now why do that on a small screen when you can do that on a larger screen !! Playing temple run, browsing social networking sites, looking at the BBC website for important information is just made so much easier on a tablets screen!
Now this review is not to persuade you to go out and buy this product, it's just a way off trying to show you that modern technology of today can be usefull for whatever your doing, whether it be gaming, weight training or yes even studying!!!!!!!!
Cheers Kyle!!